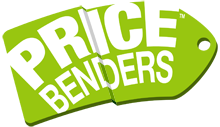 PRICEBENDERS™ Penny Auctions allow you to bid on and win hot, name brand products for a fraction of the retail price—typically more than 90% off—with a MINIMUM savings of 77% off (excluding cost of bids, if any) and FREE SHIPPING to US/Canada! Every auction starts at just one cent, with the price going up by just one cent more for each bid placed. Join the fun today!
SIGN UP HERE TO START BIDDING (or log in if you're already registered)
Hey! For all upcoming auctions, you can predict the final price and win shares of our daily TCredits "Zackpot!" We call it PICK-THE-PRICE, and it's one of our awesome Eager Zebra™ games. To play, just enter the price you think an auction will end at. If you pick the exact ending price (or are the closest if there are no exact picks), you win! Play for just one TCredit per auction. No purchase necessary to win. See Official Rules for complete details. Also see our PTP Tips and PTP Winners lists. Check out all our Eager Zebra games HERE.